In the May issue of "Autonaprawy" – a monthly magazine of the automotive market, we could find an interesting article titled "Troublesome steering rods" about tie rod replacement. It included some important tips that guarantee successful repair, e.g. the right tightening torque and reasons for using the blocking handle for the steering gear. We encourage you to read it.
DIAGNOSTYKA I NAPRAWA ZAWIESZEŃ

KRYSTIAN ŚWIDNIAK
HUZAR TOOLS
"These are constructively simple elements integrally linked with the front suspensions. When being disassembled, they cause problems to many mechanics."
We all know the unpleasant experience of working on burnt swivel pins or hard-to-reach stabilizers. However, if we use appropriate procedures and special tools, services related to removing defects of suspensions and steering systems are among the most profitable. Their technical and financial outcome depends mainly on competent resolution of the emerging issues.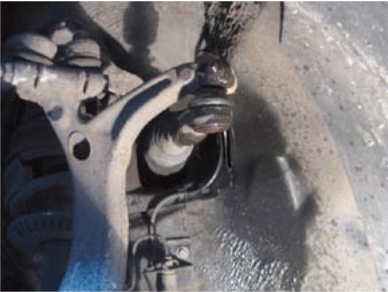 MOUNTED STEERING ROD, VW EXAMPLE
A good example is a theoretically simple replacement of the steering rod in a car where the designers have applied concepts surprising even to the most experienced and skilled mechanics. In newer models, the producers no longer include such mounting aids as notches for a wrench which could support both steering rods and gear racks. This forces mechanics to use special tools, necessary to safely remove and mount
a new rod, without removing the entire steering gear.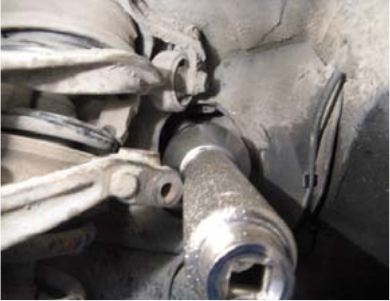 Example THE USE OF A SPECIAL WRENCH FOR DISMOUNTING THE STEERING ROD
Disassembly using traditional methods turns out to be virtually impossible, because there is no access to the rod and the force used by universal wrenches is insufficient. Apart from a special wrench, it is also necessary to apply an additional handle to immobilize the gear rack.
A common mistake made by mechanics when servicing the steering is to rotate an adjustable wrench clamped in two opposite points, which causes deformation to the end. Such a deformed rod can be only replaced.
However, it is possible to dismount such a rod correctly, even if it had been previously tightened with the described by force. When using the special tool, you should not to do this with too much torque on the rod, as it is transferred on the rack and then on some delicate components e.g. on the bottom bearing of the steering shaft or the system controlling
excessive clearance on the gear teeth. This can easily damage these mechanisms.
To avoid such unexpected secondary issues, it is worth having a locking handle for the gear rack. It is especially recommended when the rack does not have special factory-made zones supported by the universal wrench. Any substitute solution might cause various problems, such as tapping or cutting steering wheel or corruption of a torque sensor in gearboxes with electric assist.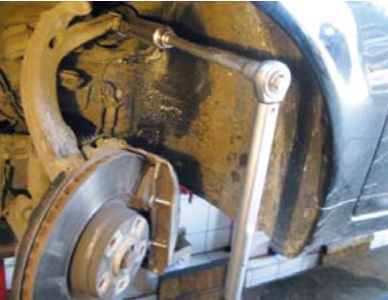 Correct ASSEMBLY OF THE STEERING ROD USING A TORQUE WRENCH
Another common error is too strong tightening of the rod with special tools. Their construction does not prevent it and many experts still believe that it is better to tighten the thread unnecessarily than to risk automatic release. Meanwhile, there is no guarantee that if the end of the rod is fixed too tightly, even with a specially designed tool, it will not change its structure, i.e. not become deformed: which had been the reason for the former wear. Therefore, it is useful to know the factory-recommended tightening torques and apply these recommendations in workshop practice.